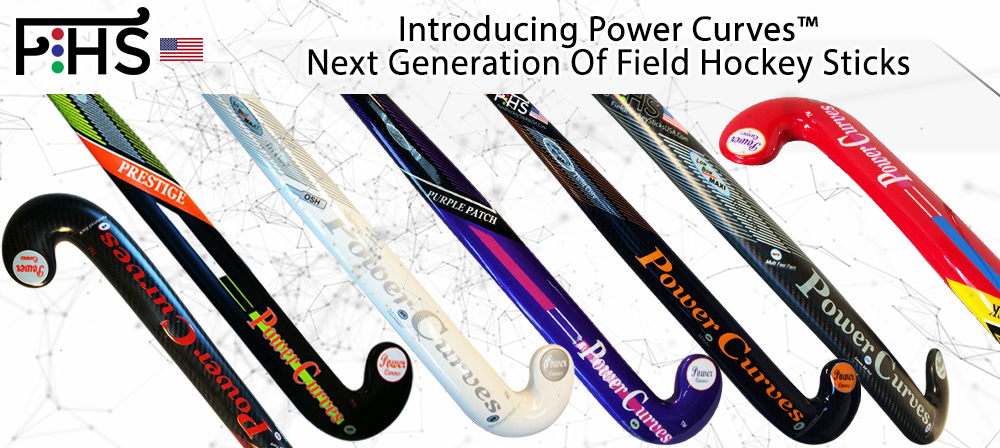 June 1st, 2018 - Field Hockey Sticks the USA is proud to introduce its new signature brand of field hockey sticks  Power Curves™ to the hockey community. These new sticks have been designed for YOU! the modern hockey player in mind. 
The first batch of composite field hockey sticks from our newly created brands are now on display on our website and store in Atlanta, GA. Careful consideration has been paid to the construction of these sticks from head to toe. Each mold of the sticks is selected to provide optimum performance for different playing styles. The range includes sticks made from 100% carbon to 60% carbon for senior sticks and 10% carbon for junior sticks. Each stick is installed with a high-quality grip to get the best grasp on the sticks.
There is a total of eight sticks in the first edition of the Power Curves™ brand for the 2018-2019 range. There are two indoor sticks Prestige & Purple Patch along with outdoor Black Stallion, Red Curve, Orange Coral, White Snow, Wonder Stick Junior & Wonder Stick Senior)
Each stick in the Power Curves™ range has both similar features and also unique features depending on what the individual player is looking for. Some of the similar features each Power Curves stick has included-
Twin Core (Single Chamber Construction)
Some of the Power Curve sticks have a unique Twin Core Single Chamber Construction at their core, and this feature provided the stick with a tremendous amount of potential and strength.
Triple Chamber Construction
Some of the Power Curve sticks have a unique Triple-Core Construction at their core, and once again this feature provides the stick with exceptional potential and strength.
 Power Curves have eight different types of sticks in the range, and these include the following-

Power Curves: Black Stallion

 Power Curves: Orange Coral

 Power Curves Prestige (Indoor)

 Power Curves: Purple Patch (Indoor)

 Power Curves: Red Curve

Power Curves: White Snow

Power Curves: Wonder Stick
As you can see this is an exciting new brand of sticks coming that we have been working on in collaboration with people from the hockey community around the globe. Gohar Siddiqi owner of Field Hockey Sticks USA says-
"We have been working quietly behind the scenes with our research and development team and hockey players to build this modern range of sticks. Each stick is uniquely designed and tested for optimum performance. We are quite happy to say that once they get in the hands of players they will feel the difference and will be pleasantly surprised."
Guarantee
All Power Curves sticks come with guaranteed satisfaction, if anything goes wrong with the stick we will replace the stick at no cost to you.  
Sponsorship Opportunities
Field Hockey Sticks USA and the PowerCurves™ brand will also be introducing a Sponsorship & Partnership program, for further information please stay tuned with details about our sponsorship programs to recruit young talented players to represent our brand.
 Come on give PowerCurves™ a go and take your game to the next level.